We revolutionize indirect procurement
Your SRM system – whether it's BeNeering, Coupa, Jaggaer, SAP Ariba, Wescale or one of the many other systems – is your purchasing department's day-to-day companion. These systems make a lot of things easier, but they also pose some challenges.
Crowdfox revolutionizes your indirect procurement and optimizes your SRM system, so that you can organize the processes in your company and its procurement even more efficiently and effectively. The result? You always buy at the best price-performance ratio, your content is massively enriched, the user experience increases enormously, and all this without changes to your existing IT landscape. Take your company's purchasing to a new level!
Weaknesses in many SRM systems
Your SRM system is an integral part of your purchasing organization and provides you with significant support in procurement. Nevertheless, you notice weaknesses that make purchasing unnecessarily complex and time-consuming. With our solution, you can eliminate these and do so easily as a supplement to your existing SRM system.
Do you know the following challenges?
Insufficient content: Important information such as images, data sheets or attributes are missing. Weak and incomplete content leads to poor search results.
No matching: The articles are not matched among each other. Duplicates are displayed in the search results, which makes the selection enormously difficult and confusing.
Low transparency: Conditions of the same article can not be compared at a glance. Therefore, you do not recognize the article with the best price-performance ratio.
Lack of competition: Automated competition between existing and alternative suppliers or marketplaces is not available.
Time consuming search: Search results have long loading times, search hits show many duplicates, searched items are not found or are very difficult to find.
Restricted Black-/Whitelisting: The connection and integration of marketplaces poses a great challenge to your company, as the possibility of unrestricted black- and whitelisting is missing.
6 good reasons for Crowdfox

Our solution for your indirect procurement
Optimize your SRM system now
With our solution, the procurement of C-parts becomes comparable to private online shopping. Your procurement organization saves valuable time in day-to-day business, strategic tasks and goals come back into focus, and process costs can be reduced enormously.
With our unique technology, simple system integration without changes to the existing IT landscape, and top user experience, we optimize your indirect procurement and SRM system. Your procurement organization can finally focus on the important issues.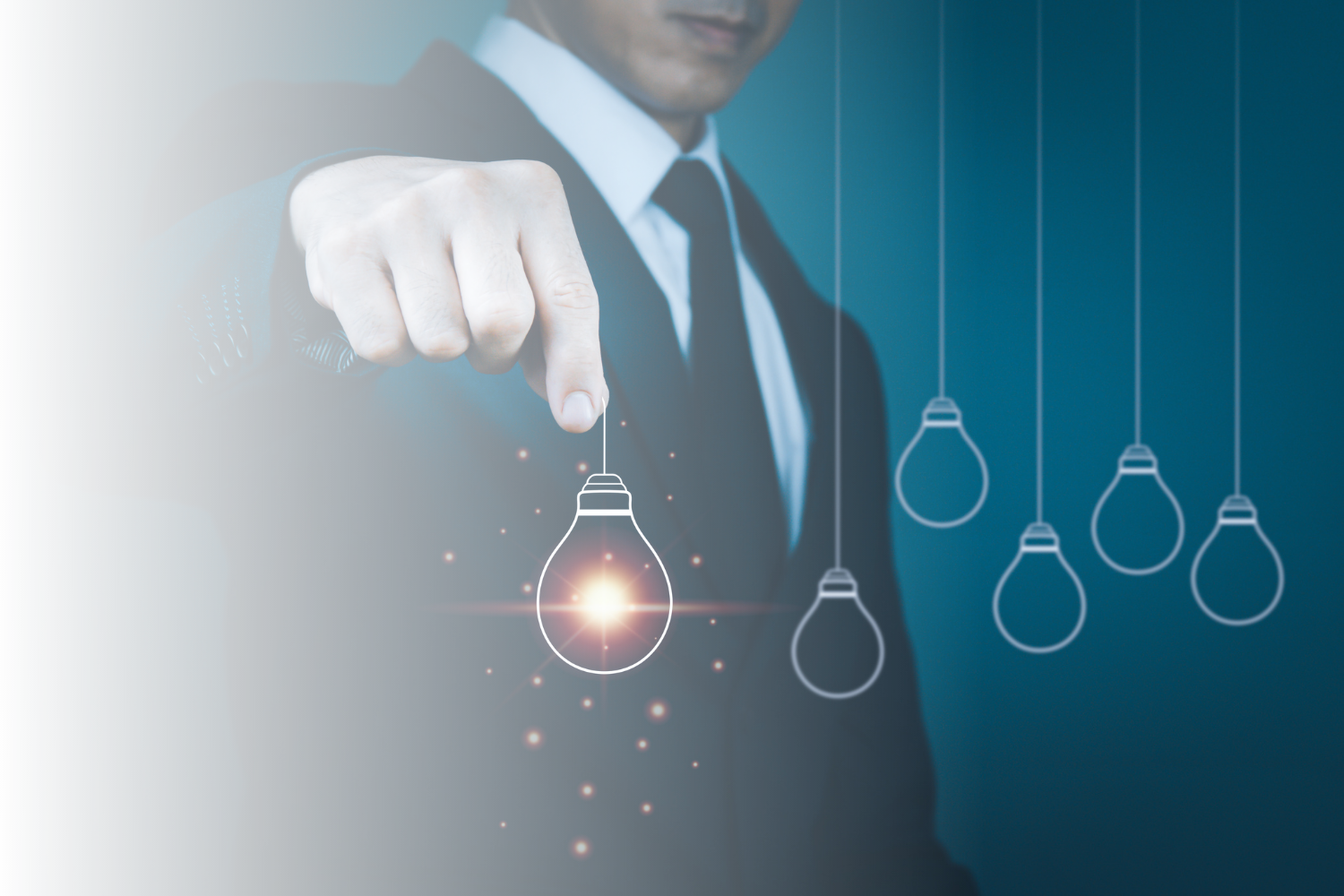 Crowdfox explained in 50 seconds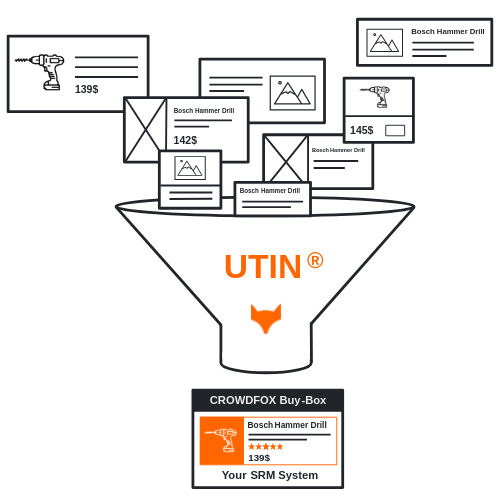 Our unique matching technology
Crowdfox procurement solution is unique on the market and is characterized by its proprietary UTIN® matching technology. This technology assigns a Unique Trade Item Number (UTIN®) to each article. Data from different catalogues from different suppliers is consolidated in this way, creating a kind of meta article. Identical products are recognized even if they have different identification numbers or attribute formatting, for example. The Matching technology thus enables intelligent bundling of purchasing volumes with algorithms and ensures comparability and transparency in purchasing.
System integration at the highest level
Our solution is custom-fit and flexible
Let's talk together to find out which variant of our various connections best suits your company and your expectations.
Crowdfox can be quickly and easily integrated into your SRM system and processes – the existing IT landscape and workflows remain unchanged. The connection is made, for example, by uploading a Buy-Box catalogue or by Punch out.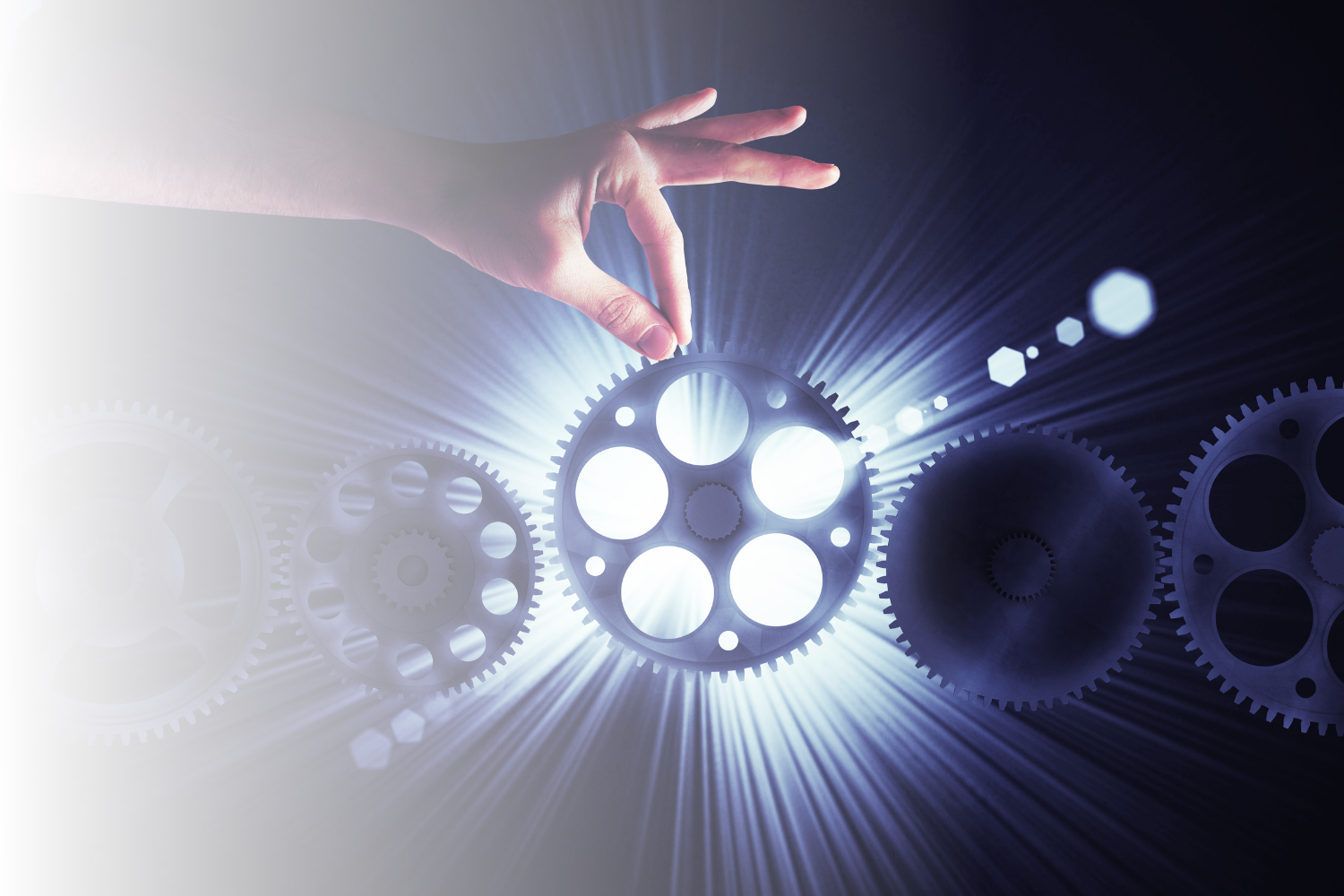 Connection via Buy-Box catalogue
The Buy-Box catalogue is our latest innovation. With this, when searching for items in your SRM system, you no longer search each individual catalogue, but only the consolidated Crowdfox Buy-Box catalogue. This enables an even faster search and at the same time duplicates are eliminated. Thanks to a clear list of all supplier offers, you always have maximum price transparency at item level.
Connection via Punch Out Level II
With the connection via Punch Out Level II, you search for the desired articles in your SRM system. As soon as you have selected an item, you are automatically taken to our platform, where you can compare all offers from inventory suppliers, alternative suppliers and – if desired – marketplaces. The selected offer is then transferred to your SRM system and you can complete the order as usual in your system environment.
Connection via Punch Out Level I
With the connection via Punch Out Level I you jump comfortably from your SRM system to our Crowdfox interface. There you have the possibility to search for all desired articles, select a suitable offer and put it into your shopping cart. The shopping cart is then automatically transferred to your SRM system and you can complete the order as usual in your system environment.
Connection via Single Sign on
With our single sign on, users who do not make purchases on a daily basis have the opportunity to make purchases on our platform as needed. The login is done via easy entry directly on our platform. All items are of course subject to your company restrictions and orders are automatically transferred to your SRM system.
Best Practice - Our solution in action